Pair of Crystal & Stone Candlesticks
Jan 5, 2022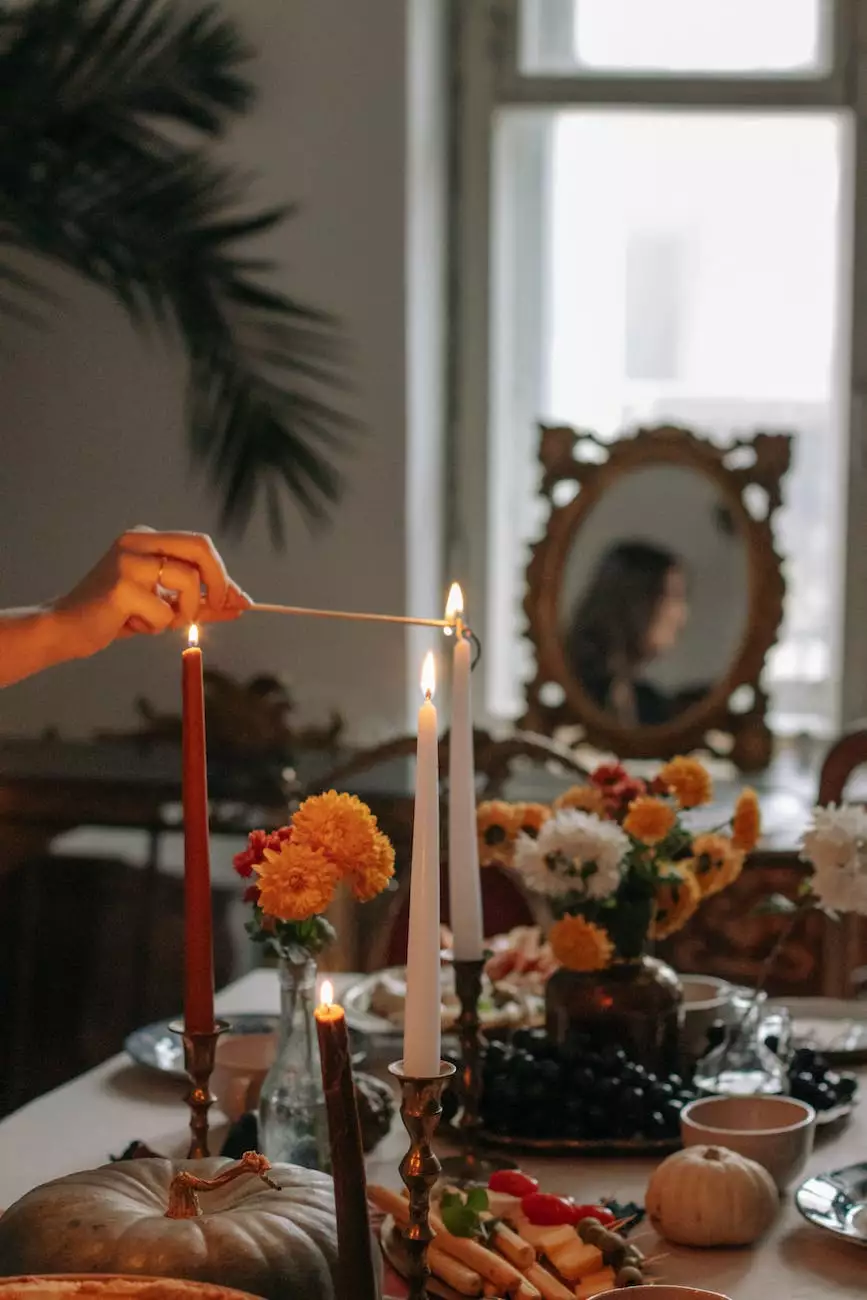 Elevate Your Spiritual Practice with Exquisite Crystal & Stone Candlesticks
Welcome to Solomon Schechter Day School's collection of beautiful and meaningful religious artifacts. Our Pair of Crystal & Stone Candlesticks will undoubtedly enhance your spiritual practice while adding a touch of elegance to your home. Crafted with utmost care and attention to detail, each candlestick embodies the essence of Jewish tradition and serves as a symbol of divine blessings.
The Perfect Blend of Beauty and Spirituality
At Solomon Schechter Day School, we understand the importance of finding religious items that not only reflect your faith but also captivate your aesthetic sensibilities. Our Pair of Crystal & Stone Candlesticks strikes a perfect balance between beauty and spirituality.
Unparalleled Craftsmanship
These candlesticks are meticulously crafted by skillful artisans who take pride in their work. Each piece is made with the highest quality materials, ensuring its longevity and enduring beauty. The crystal accents delicately catch the light and create a mesmerizing display whenever the candles are lit.
Diverse Selection of Stones
We offer a variety of exquisite stones to cater to different preferences and tastes. From vibrant amethyst to soothing rose quartz, you can choose the stone that resonates with you on a deeper level. Each stone is thoughtfully selected to infuse positive energy and spiritual significance into your candle lighting ritual.
Enhance Your Shabbat and Holiday Celebrations
Lighting candles is an integral part of various Jewish traditions, particularly Shabbat and holiday celebrations. Our Pair of Crystal & Stone Candlesticks adds a touch of elegance to these special moments, enriching the experience and connecting you to your faith in a profound way.
Unwavering Symbolism
Symbolizing the Divine Presence, the candlesticks serve as a beautiful reminder of the spiritual light that illuminates our lives. As you light the candles, a sense of tranquility and spirituality fills the room, enabling a deeper connection with your faith and cherished traditions.
Pass Down a Sacred Tradition
Our Pair of Crystal & Stone Candlesticks is more than just an exquisite piece of art. It is a family heirloom that can be passed down from generation to generation, symbolizing the continuity and strength of your history and traditions. By incorporating these candlesticks into your family's rituals, you create a meaningful and lasting legacy.
Invest in the Spiritual and Aesthetic Beauty
When you acquire the Pair of Crystal & Stone Candlesticks from Solomon Schechter Day School, you invest in both the spiritual and aesthetic aspects of your life. These candlesticks are not only a testament to your religious devotion but also a stunning addition to your home decor. They serve as a daily reminder of the beauty and richness of Jewish culture.
Perfect for Special Occasions and Gifts
Searching for a unique and meaningful gift for a loved one? Look no further! Our Pair of Crystal & Stone Candlesticks will leave a lasting impression on your friends and family. Whether it's for a wedding, anniversary, Bar/Bat Mitzvah, or any other special occasion, these candlesticks make for a truly unforgettable present.
Supporting the Community
By purchasing from Solomon Schechter Day School, you contribute to various educational and community initiatives. We are committed to nurturing a strong and vibrant Jewish community, and your support goes a long way in helping us achieve this goal.
Order Your Pair of Crystal & Stone Candlesticks Today
Experience the beauty, spirituality, and elegance of our Pair of Crystal & Stone Candlesticks. Trust Solomon Schechter Day School to provide you with meticulously crafted artifacts that resonate with your faith and aesthetic preferences. Place your order today and elevate your spiritual practice to new heights.
Note: Each candlestick is handcrafted and may slightly vary in appearance. Candle holders are not included.